Boys Football-Nova Unite
Our Back-Story
I moved to the village in 2015 from Stafford and was contacted by a member of the Child's Ercall team, so I played in the last team to play in the village. It was a real shame when the team moved to Market Drayton, as I loved walking to the pitch and playing after a football career with a lot of traveling.
I was conscious that I didn't want my son Charlie to play football until he was really interested. He started showing an interest a little later, and by then all the teams at Nova already had their playing squad. So, we started a new team, and in no time we had 10 players. After a series of false starts due to the pandemic and restrictions, we started to find some rhythm and registered as a team for September 2020. We had a heavily disrupted season where we hardly played. The boys patiently waited and had their first real season at Under 10s.
I really enjoyed coaching the boys and quickly realized that it required a lot of preparation and responsibility to ensure they enjoyed their football. The target has always been simple - to make it enjoyable so that as many of them as possible continue to play as they grow up.
Towards the end of 2020, our squad grew to 20 players, so we started building a coaching team to cope with the numbers. Darryl and Neil were the founding members, and we completed our DBS, safeguarding, and coaching certificates. We knew this was very different from when we grew up, where playing time was equally shared and the result was secondary. In our first season, we got to the lower tier cup final and shared playing time equally so that all the boys got to experience playing. We lost 2-1, but all the lads had a great day and most were smiling at the end!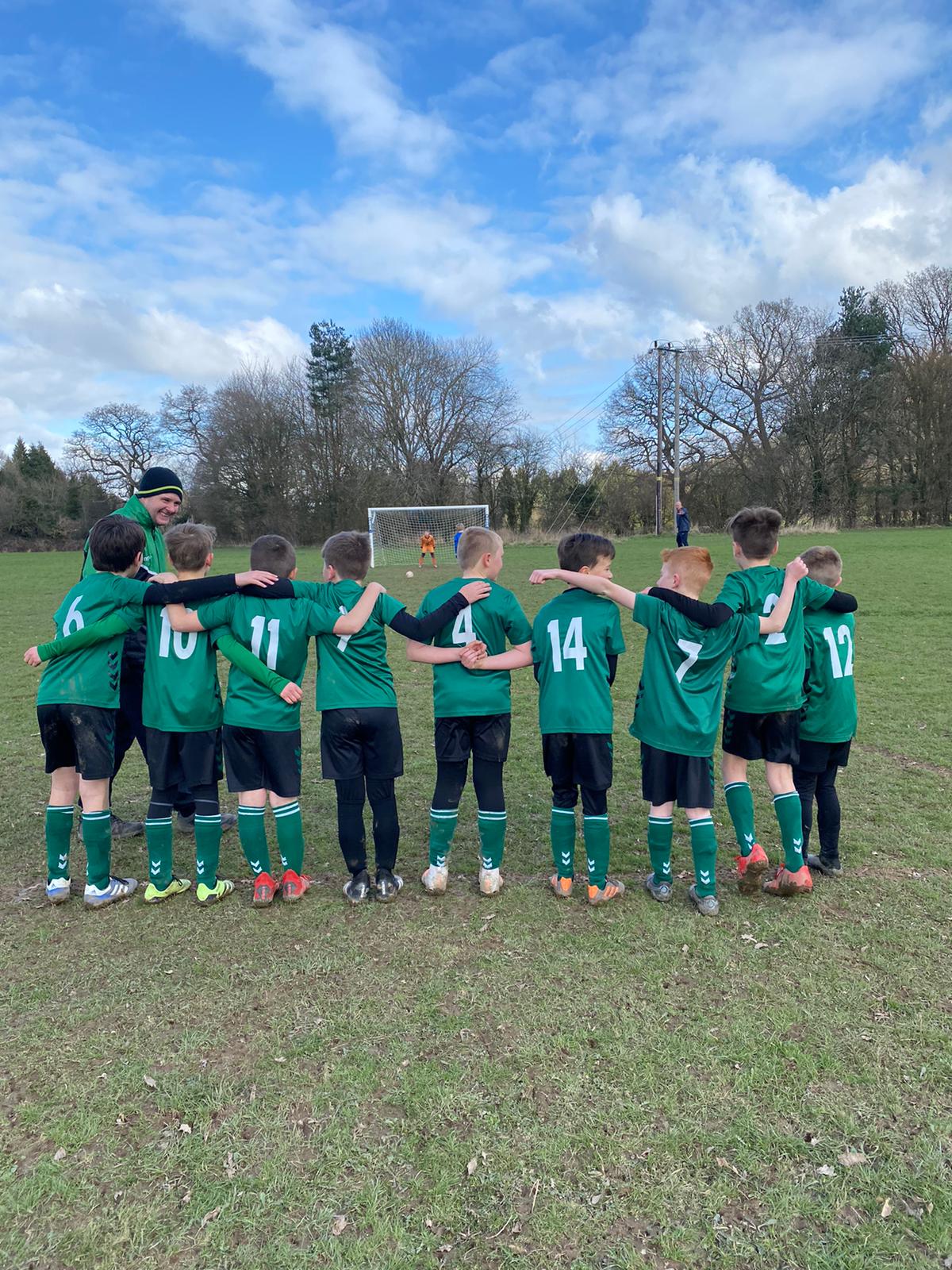 Coming Home to Childs Ercall
We are so pleased with our move to Child's Ercall as whilst our previous ground, Shuker, is a quality facility it had so many teams there that being the third team in our age group made traffic very busy. We wanted to be able to decide our own kick-off times. The Parish Council and Community Association have both been very supportive, and we are all on the same page, giving up our time to provide the boys with a nice pitch to play on.
Claire Morrey joined the coaching team and has been brilliant for the boys, helping me take care of them.
The playing park offers a great facility for siblings, and Miriam (Cakelicious) now has her wonderful pop-up cafe, which is increasingly attracting more supporters to watch the team.
This year, With the boys moving up a pitch size, we decided to create two pitches side by side and reduce the goals to a 9v9 pitch. This seems to have worked really well, and we have permanent smaller goals thanks to Ash, David, and Bernard.
Now we have two excellent pitches to host games on Saturday and Sunday mornings. Fiona (CECA) now advertises these games on the Village Events Calendar, hosted on this website. Les Blaney has been cutting the pitches too and has helped out at late notice, saving my mower! We don't have VAR at our games, so you are welcome to come down and watch some technology-free football. I truly believe that this level of football is the beautiful game, bringing together local families and communities.
This year, Mark Bollands joined the coaching team, providing much-needed support and ideas. Mark was a fine goalkeeper himself and has taken our game to the next level.
We are now three years in and really enjoying it, despite it taking up a lot of time. But then, anything worth doing does! We are incredibly grateful to all those who have helped us by sparing a few hours to ensure that the show goes on. James Maddocks even enjoyed cutting the grass a few weeks back, secretly!
This year is our first year of competitive football where scores count, and we have started well, winning all of our games. We also now have a Respect Marshall in place, Rachael Bills, who produces a report after each match if there is any dissent or unwanted behavior from the sidelines, such as abuse towards referees. We are passionate about our boys having the right discipline and playing sport the right way.
Special shout out to our sponsor, Rosewood Pet Products! There are a lot of dog walkers in the village - you know where to get your doggie treats!
Thank you to everyone for your support and well wishes. I am often asked how we are getting on - it means a lot, and
"we feel at home in the village"
Want to Know more?
If you want to know more or get involved (either personally or with your son), then please do feel free to contact me;
Fixtures, Results and League Tables
Click link below!